Shopping Cart
Your Cart is Empty
There was an error with PayPal
Click here to try again
Thank you for your business!
You should be receiving an order confirmation from Paypal shortly.
Exit Shopping Cart
The MGM Grand Hotel and Casino is one of Las Vegas and the World's best biggest casinos. It is located on the Las Vegas strip in Paradise, Nevada. With 6852 rooms, it is the biggest single restaurant in the US, the second-largest hotel complex in the US, and the 3rd largest hotel complex in the World.
The hotel has 30 floors, is 89 meters high, and occupies 171,500 square feet. The property around has five outdoor pools, rivers and waterfalls, numerous shops, nightclubs, restaurants, and many more.
The History
MGM Grand Hotel and Casino opened on December 18, 1993, owned then by MGM Grand Inc. It featured the Wizard of Oz theme, including the green Emerald city. The main aim of building the MGM Grand Hotel and Casino was to create a destination hotel in Las Vegas and make the Las Vegas Strip more accommodating by including the MGM Grand Adventures Theme Park. The park did not perform well. It was later discontinued in 2001.
At the hotel's entrance was a giant lion head, and the visitors entered the hotel through the lion's mouth. This feature was later removed because the Asian gamblers found it bad luck to walk through a lion's jaws and started avoiding the hotel.
During the refurbishments that started in 1996, the Oz Casino was the first to go. The process saw the Emerald city demolished, and the Emerald City Gift shop moved to a new section at the casino of the lion's mouth entrance started in 1997 and took about two weeks.
In 2005, MGM Grand Hotel introduced the west wing that was a renovation of the Marina Hotel Room. In 2006, the site MGM Grand Adventures Theme Park became the luxury condominium and hotel complex called The Signature at MGM.
Full hotel rooms and suites, casino floors, and other public areas renovations in the main tower started in October 2011. They were completed in 2012.
In January 2020, MGM Resorts planned to sell the resort to a joint venture that included MGM Growth Properties and The Blackstone Group. The deal that gave MGM 50.1% of shareholding and Blackstone the rest 49.9% became finalized in February 2020.
Conclusion
The MGM Grand Hotel and Casino is one of the biggest casinos and a preferred destination for many gamblers. It is essential to understand how the hotel came to be as successful as it is today. By reading through, you get a brief explanation of the hotel and understand important historical events.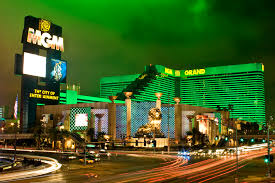 Categories: None
/